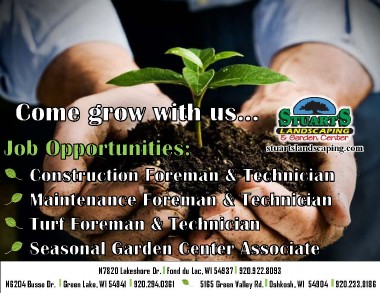 Come Grow with Us
Apply now! If you're looking to work outside, have a flexible work schedule and work for a family-focused company with opportunity for bonuses and benefits, Stuart's Landscaping and Garden Center could be the right...
Learn More
Locations & Hours
Fond du Lac
N7820 Lakeshore Dr.
Fond du Lac, WI 54937 (MAP)
Monday-Friday 8am-6pm
Sat.8am-5pm Sun.10am-4pm
Green Lake
N6204 Busse Dr.
Green Lake, WI 54941 (MAP)
Monday-Saturday 8am-5pm
Sunday 10am-4pm
Ripon Tree Farm
N8996 Custer Road
Ripon, WI 54971 (MAP)
Call for an appointment.