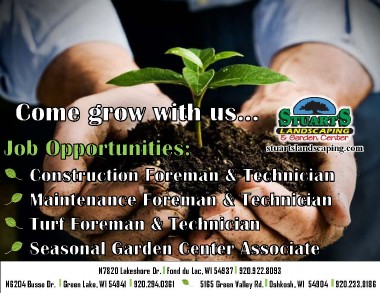 Come Grow with Us
Apply now! If you're looking to work outside, have a flexible work schedule and work for a family-focused company with opportunity for bonuses and benefits, Stuart's Landscaping and Garden Center could be the right...
Learn More
Locations & Hours
Fond du Lac
N7820 Lakeshore Dr.
Fond du Lac, WI 54937 (MAP)
Monday-Thursday 8am-4pm
Green Lake
N6204 Busse Dr.
Green Lake, WI 54941 (MAP)
Closed for the season.
See you in spring!
Oshkosh (Prev. Gro Plant)
2957 Brooks Road
Oshkosh, WI 54904 (MAP)
Closed
Ripon Tree Farm
N8996 Custer Road
Ripon, WI 54971 (MAP)
Call for an appointment.